Yet another side of my life…
For those who like to get lost, nothing beats working your way through a maze. I started drawing mazes in the mid-70's and quickly developed my own style which hasn't changed since. I used to draw alot of them, most of which were given away or claimed by my mother. Most of the mazes I have are available for downloading here.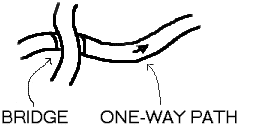 All of my mazes are hand-drawn and include a couple of features that are designed to make going through the maze alot harder than usual. The first feature is the bridge. This lets one path cross over or under another path without connecting to it. It adds a bit of 3-dimensionality to the puzzle. Bridges are drawn similar to the way they would appear on a roadmap.
The second feature is the one-way path. This is designated by an arrow in a path. You can go in the same direction as the arrow, but you aren't allowed to go against it. (If you like to work backwards from the finish to the start, then you can only go against the arrows, not with them.)
The start and finish areas of each maze typically have a few different entrances and exits, any one of which may work. In general, all the entrances are interconnected to each other somehow and the same holds true with the exits. Paths generally tend to lead back to where you've been before. I draw each maze by working from the start and finish at the same time, keeping track of which paths lead from the start and which paths lead to the finish. Somewhere along the line, I connect a start path and a finish path. This tends to make the maze as difficult to solve working backward from the finish as it does forward from the start.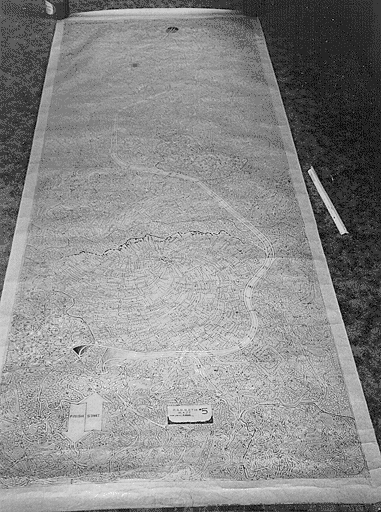 I also try to use a little 'psychology' when drawing my mazes, trying to lure you away from the correct path. But it doesn't always work for everyone.
Back in my maze-making heyday, I made several very large mazes, the largest of which is the Mammoth Maze 5. I drew it in 1981. It is over 20 square feet (roughly 3×7.5 foot) and contains almost 1/4 mile of paths! Click on the image for more information about this maze and how to buy a copy.
Most of the mazes that are available for downloading here are fairly small. The originals were done on letter or legal size paper (some with a little color for a more artistic look) and were scanned in black & white (typically at 200 or 300dpi). The scan quality isn't the best but the mazes are do-able. Use a program that allows you to print the maze so it fits on one full-sized piece of paper.
---
These were hand-drawn, then scanned in black & white (unless otherwise noted). To download a maze, right-click on the thumbnail and select "Save target as…".
9″x4″. "MAZE" Drawn around 1982. 103k.
| | |
| --- | --- |
| | 8.5″x11″. "Lenses". An early maze drawn in pencil. Drawn in 1978. 313k. ** This maze is faulty – There is no solution ** |
| | 8.5″x11″. An early, crudely drawn maze from 1978. This very easy maze should fit in your browser window. 152k. |
| | 8.5″x11″. Another early maze from 1978. Too easy. Fits in your browser window. 107k. |
| | 8.5″x11″. "Snake". An early maze with a 5 minute time limit. First of a series of three. Drawn in 1979. 187k. |
| | 8.5″x11″. "Modern Art". An early maze with a 5 minute time limit. Second of a series of three. Drawn in 1979. 216k. |
| | 8.5″x11″. "MX-365". An early maze with a 10 minute time limit. Third of a series of three. Drawn in 1979. 214k. |
| | 8.5″x11″. "Electronic Nightmare". An easy maze using diodes – trace the conventional current flow (i.e. don't go against arrows). Drawn in 1982. Fits in your browser window. 26k. |
| | 6.5″x6.5″. "Doughnut Twist" Drawn in 1982. 192k. |
| | 7″x7″. "Big Burger" Drawn in 1982. 361k – Color. |
| | 8.5″x11″. Drawn in 1991. 265k. |
| | 8.5″x14″. Drawn in October 1992. 329k. (In case you get stuck, I've provided the answer for this one just to show you that these mazes are do-able.) |
| | 8.5″x11″. Drawn in 1992. 144k. |
| | 8.5″x11″. Drawn in 1992. 157k. |
| | 8.5″x11″. Drawn in 1992. 159k. |
| | 19″x24″ (poster size image 3825 x 2928). Drawn December 1996. 646k. (Fairly difficult).This maze is also available in color from Zazzle.com. Click on the color version below to buy it. |
| | 4″x4″. "One". A fairly easy maze I did for my company newsletter. First complete maze I've drawn since 1996. Drawn 2014. 101k. |
| | "Two". This is my first 'two-in-one' maze. Find your way from start to finish, then find your way from finish to start. Drawn 2014. 415k. |
| | "Three". This is a 'six-in-one' maze. There are three openings, labeled 1, 2, and 3. Pick one as a start and another as a finish and find your way through. There are six possible combinations, meaning six different ways you can find your way through. Drawn 2014. 495k. |